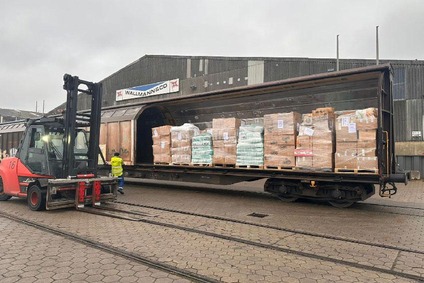 Around the world, numerous citizens, organisations, NGOs and governments are organising donations for those affected by the devastating earthquake disaster in Turkey and Syria with tens of thousands of deaths. The people in the affected areas lack everything after the massive destruction. To ensure that the urgently needed aid also arrives safely and reliably at its destination, it needs fast and uncomplicated transport.
The rail transport company Hamburger Rail Service (HRS) has been a partner of the ÖBB Rail Cargo Group (RCG) for many years. The managing director of HRS, Adem Gülaz, has organised 300 tonnes of relief goods with his private contacts. These included generators, mobile toilets, food, clothing, hygiene articles, heaters, sleeping bags and tents, which were packed into 18 wagons. These are 800 pallets that will go directly to the Turkish National Disaster Agency (AFAD), according to Adem Gülaz, the managing director of HRS.
The transport already started in Hamburg and was handled by HRS as far as Passau. From Passau to Edirne in the west of Turkey, RCG will take over. After the arrival in Turkey, the Turkish RCG subsidiary will additionally support the partner HRS in the distribution of the aid supplies to the earthquake area. Further aid transports of this kind are already being planned. "We at Hamburger Rail Service are doing this to give the people in the crisis area a bit of hope. That is why we have named this train 'Train of Hope'," says Adem Gülaz. "After all, this is not primarily about religion or origin, but about humanity!"

We transport your aid supplies
We are constantly in talks with NGOs and create individual transport concepts for a wide variety of aid supplies. If you need a logistics partner for the transport of aid supplies and goods, please contact kommunikation@railcargo.com!