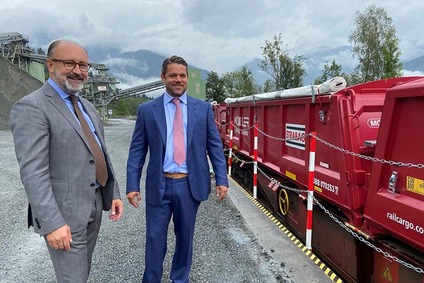 The ÖBB Rail Cargo Group (RCG) has extended its prior cooperation agreement with Mineral Abbau GmbH – a Strabag subsidiary. RCG will continue to use rail transport to haul around 25,000 tonnes of gravel and crushed rock for the company in an environmentally friendly manner. This will avoid around 2,000 journeys by truck.
Six underframes with a total of 24 internally branded MOBILER containers will be used for transportation in the future. Railway logistics with MOBILER will combine the benefits of environmentally-friendly rail travel with those of road goods transport, ensuring ease of transshipment. There will be no need for a crane, a private siding or a terminal. Container transshipment from a truck to a freight wagon works via a hydraulic system on the MOBILER vehicle. As a RCG we have transported around 1 million tonnes of extremely varied goods this way.
How the MOBILER is used
The MOBILER is used to run the quarries at Bleiberg and Saalfelden for Mineral Abbau GmbH. The wagons with the containers are provided in the relevant industrial sidings, then loaded with gravel. After loading, they are hauled by rail to the relevant unloading stations (Vienna-Breitenlee, Hall in Tirol/Fritzens Wattens). From this point onwards, the MOBILER vehicles take over the containers and bring them directly to the asphalt mixing plants at the site. Quality asphalt for motorways or carriageways is made from these raw materials.
08.09.2022