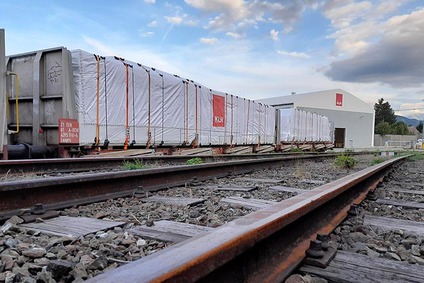 KLH is a pioneer in the production of KLH® - CLT cross-laminated timber. This is made by stacking spruce lamellas on top of each other and sticking them together using adhesive which is subjected to high pressure to form large-format construction elements. KLH® - CLT are construction elements with a high level of prefabrication for fast, ecological construction methods.
RCG is now delivering these elements from the KLH site's own industrial sidings in Bad St. Leonhard in Carinthia (Austria) to Trondheim (Norway), 2,300 km away, for a school in Afjord. The shipment contains a total of 530 m3 of timber – equivalent to 225 tonnes – which will arrive in Scandinavia via the Passau–Trelleborg route in five to seven days. Once they reach Trondheim, the KLH® elements will be transferred from the RCG wagons onto twelve trucks, which will transport them directly to the construction site.
For a greener tomorrow
With its sustainable rail transport, KLH will save 76 tonnes of CO2 equivalent compared to classic lorry deliveries. This is very much in keeping with the company's philosophy of taking responsibility for the environment both internally and externally.
THIS IS #RAILCORE!
07.09.2022