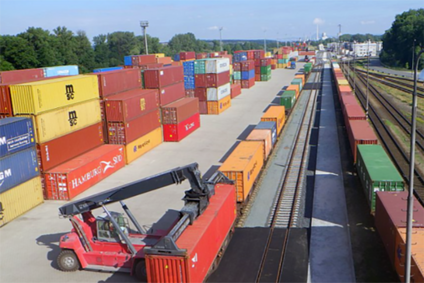 ÖBB Rail Cargo Group (RCG) has been providing effective non-stop transport handling between its own terminal in Mělnik and the northern ports of Hamburg and Bremerhaven – transhipment hubs for intercontinental transports – for 20 years. The transhipment terminal in Mělnik is of significant importance to RCG. 20, 40 and 45 foot containers, swap bodies and semi-trailers are handled here on a total of 33,000 m². Four container stackers are available for handling at the terminal. From here, RCG distributes the maritime flows of goods to other terminals or destinations in the Czech Republic and Slovakia.
Steady upward trend
Today, customers such as forwarders, shipping companies and shipping agents benefit from high capacities and departure frequencies with between nine and eleven departures per week and a fixed timetable with attractive transit times and A-B connections. It started in 2003 with an import and export transport volume of 8,265 TEU. Initially, the trains only ran between Mělnik and Hamburg, but since 2012, RCG also runs regular trains to Bremerhaven. The record year was 2019 with 85,879 TEU.
THIS is #RAILCORE: 20 years without an interruption of operations
This development mainly results from ongoing quality improvements – after just ten years, the TransFER already had a broad portfolio of customers, even outside the Czech Republic. Today, the TransFER has been running without interruption for 20 years and is the flagship product of the Czech RCG subsidiary RCO-CSKD.
TransFER Melnik–Hamburg/Bremerhaven