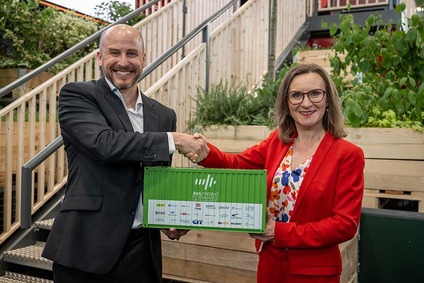 RCG is a part of the Rail Freight Forward Initiative, an alliance of European freight railways that aim to drastically reduce the negative impact of freight transport on the planet and mobility through innovation and a smarter transport mix. The coalition aims is actively working towards increasing the rail freight transport share in the modal split to 30% by 2030. The coalition was established in 2018. RCG was a founding member and also held the chairmanship with the help of CEO Clemens Först.
Symbolic handover in Munich
At this year's transport logistic trade fair in Munich, Clemens Först handed over the chairmanship to Sigrid Nikutta, CEO of DB Cargo, after holding it for five years. A small container was symbolically passed over. RCG thus relinquishes its chairmanship, but remains a member. Först comments: "Transport is a significant component of the climate problem, and rail is a fundamental part of the solution. That is why we are not only pushing innovation in rail freight, but also fighting for fair competitive conditions compared to road and greater capacity on the rail network."
The coalition demands that it should be as easy to drive a train across Europe as it is to drive a truck, and that rail transport should not be financially disadvantaged in the process. "If we are able to transport more goods by rail, we will also succeed in achieving the European Union's climate targets. It is feasible to achieve a 30 percent share of goods trains in the continental transport mix – with digitalisation and automation of rail transport," says the new RFF chairperson Sigrid Nikutta.