TransNET – your cargo, our logistics solutions
How to find your TransFER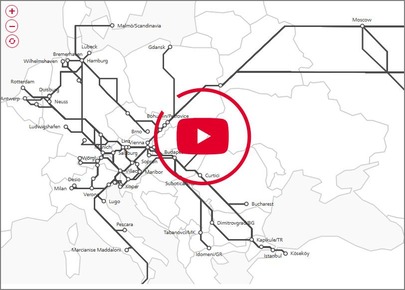 Jinan Moscow
TransFER Jinan–Moscow
In the current situation, this TransFER is only used if necessary and after a thorough examination of all sanctions law requirements. Details are available from the contact persons mentioned above.
Our focus has been on direct express rail connections for FCL and LCL transport between Asia and Moscow for several years.
These TransFER connections cross the Chinese–Russian border at Zabaikalsk/Manzhouli and Erlian/Zamiin-uud respectively and travel along the Trans-Siberian Railway to Moscow. This express connection runs via Krasnoyarsk, Omsk, Ekaterinburg, Perm and Novgorod.
Your benefits
Weekly express connections between Asia and Vorsino Terminal (Moscow)
Fixed schedule
Attractive transit times of 14-18 days
Connection to our unparalleled network in Russia and beyond
Storage facilities in our Russian logistics centres
Management and handling of first mile and last mile services by truck
Additional forwarding services such as organizing distribution, loading / unloading / transloading, load restraint, weighing, transshipment facilities and warehouse logistics, preparing consignment notes, customs services, wagon cleaning
Legend
TransFER
TransFER Selection
Stop
Intermodal
Wagonload
Rolling Road
Locations
TransNET