TransNET – your cargo, our logistics solutions
How to find your TransFER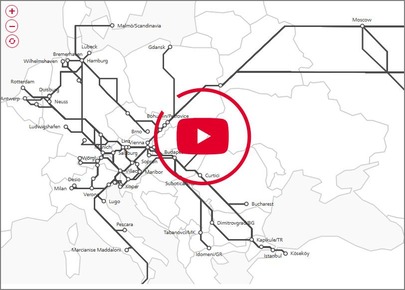 Xian Budapest
TransFER Xian–Budapest
Our CEE highspeed TransFER between Xian and Budapest offers a direct FCL connection along the Silk Road.
The majority of goods travelling to or from China are transported by sea via the port of Piraeus and the Adriatic ports. Our fast TransFER connection Xian–Budapest and back offers a competitive, eco- friendly rail alternative for container goods destined for Chinese as well as Central and East European markets.
The connection runs from Xian, capital of Shaanxi province, via the China-Kazakhstan border at Dostyk and the European border crossing point Malaszewicze to RCG's BILK terminal (Budapest). This is not only an important TransNET junction, but also a central hub for conventional and intermodal transport to and from Central and Southeastern Europe.
Your benefits
Direct connection for FLC transports from Xian to BILK terminal (Budapest) and back
Fixed timetables
Competitive transit times of approx. 22 to 24 days
Connection to our unparalleled European network
Storage facilities in our logistics centres across Europe
Management and handling of first mile and last mile services by truck
Additional forwarding services such as organising distribution, loading/unloading/transloading, load restraint, weighing, transshipment facilities and warehouse logistics, preparing consignment notes, transshipment, customs services
Daily update on transport status
Legend
TransFER
TransFER Selection
Stop
Intermodal
Wagonload
Rolling Road
Locations
TransNET