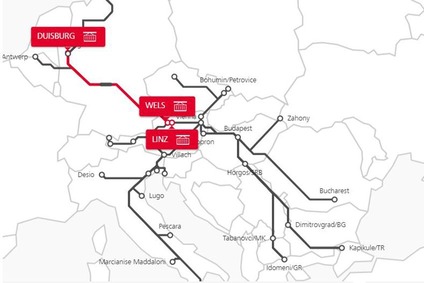 ÖBB Rail Cargo Group (RCG) transports all kinds of goods in conventional wagonloads and containers incl. dangerous goods (RID) climate-friendly and non-stop between Upper Austria and the industrial area of the Rhine-Ruhr region. Antenna connections are possible with the entire Central and South-Eastern European region.
More about this TransFER
It started in 2018 with three weekly round trips, which since the start have increased to six due to high demand. The entire TransFER runs in RCG own traction with a transit time of only 20 hours. The main volumes have always been goods from the chemical and steel industries. Other advantages of this TransFER connection: comprehensive additional forwarding services such as transhipment facilities, warehouse logistics, customs service, damage wagons and emergency management. In 2022, the TransFER Linz–Scandinavia–Wels was incorporated via the main route of the TransFER Linz–Duisburg–Wels – quantities to or from Scandinavia can be added from Rheinkamp near Duisburg.
TransFER Linz–Duisburg–Wels