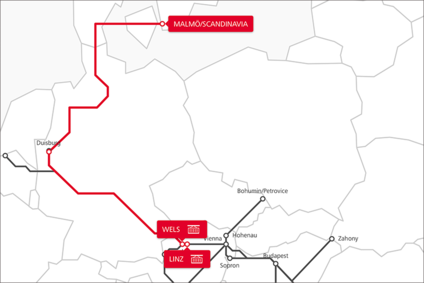 The TransFER Linz–Scandinavia–Wels for wagonloads now shares the route with the TransFER Linz–Duisburg–Wels. In the course of the operational consolidation of the connections, the weekly round trips between Linz and Rheinkamp (near Duisburg) and to Wels were increased from five to six – two of which continue from Rheinkamp by rail via Maschen to Denmark and the Öresund Bridge to Malmö. Transports to and from the Vienna central marshalling yard are still possible with TransFER combinations.
Direct connection to the Scandinavian region
Due to its geographical location, Malmö plays an important role for a sustainable European transport network. The new route eliminates the need to reload onto ship to reach the port region of southern Sweden. With the TransFER Linz–Scandinavia–Wels, RCG creates a reliable and safe transport solution in the Scandinavian area with further connection options in Northern and Western Europe. In addition, Rheinkamp offers the option of adding quantities to Scandinavia or distributing quantities from Scandinavia in Germany and to France, Belgium and the Netherlands.
TransFER Linz–Scandinavia–Wels