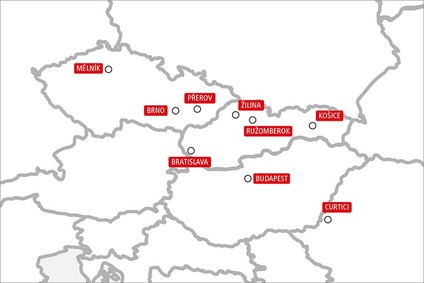 Located on central corridors and in the most important national economic centres, the terminals form the central link in an integrated intermodal transport chain. We therefore lay the foundation for a broad range of services and ensure efficient coordination between loading agents, forwarders, operators, rail transport companies and shipping companies too. From handling of loading units, to collection and delivery of trains and wagon groups, we reliably offer the entire spectrum of services from a single source, with our core task being the handling of containers, swap bodies and semi-trailers.
Our services in detail
All terminal services, such as reloading and loading/unloading of loading units (containers, swap bodies, semi-trailers)
Collection and delivery of trains and wagon groups
Storage possibilities
Claim settlements in the event of damage to containers or loads
Repairs to containers
Additional and consulting services in the field of customs clearance
Hungary
The Budapest BILK container terminal is crucially important. After all, in Hungary, the terminal is the handling centre for unaccompanied combined transport units and forms the hub for combined goods transport headed towards Western and South-Eastern Europe.
Romania
With the Railport Arad Intermodal Terminal in Curtici – which is one of the largest and most state-of-the-art railway terminals in Romania and one of the largest in Central and Eastern Europe – the Rail Cargo Group offers efficient terminal services. This enables us to ensure maximum service quality along the entire logistics and transport chain.
Slovakia
In Slovakia, the Rail Cargo Group operates container terminals in Bratislava, Košice, Ružomberok and Žilina. The Žilina terminal is especially significant for the automotive industry. Bratislava is in a strategically favourable location, especially for transports to Austria and Hungary. No less interesting is the fact that the terminal is directly connected to the Danube, which enables efficient handling between rail and internal waterway transport.
Austria
In Austria, the cargo centres and terminals are operated by the Austrian Federal Railways infrastructure. You are the specialist and neutral service provider for cargo handling and many other terminal services.
Slovenia
The terminal in the Port of Koper plays a central role as a hub between Central and South-Eastern Europe and the Far East. There is a direct contract between Rail Cargo Group and the Port of Koper, which enables us to offer the entire port logistics with all supporting services for all customers and industries without being terminal operator ourselves.