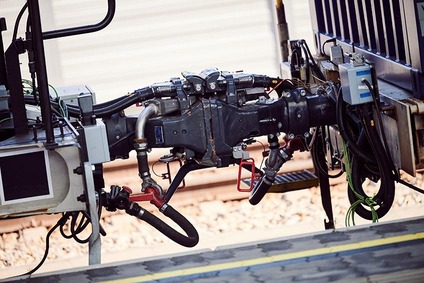 In Europe, the manual screw coupling is still used for shunting - an outdated, time-consuming and inefficient method. The DAC is intended to change this by coupling and uncoupling wagons automatically in the future. In addition, the DAC also connects the power, data and main air supply lines of the carriages. It is thus considered a milestone in process optimisation and digitalisation, and is expected to make a significant contribution to the transformation of rail freight transport.
From Vorarlberg to Vienna
After the initial start of the tour in Germany, the prototypes of two Scharfenberg coupling designs from the manufacturers Voith and Dellner were then presented for a month for the first time in Austria. As part of this process, they underwent various tests at a number of railway stations and industrial sidings in the country. The DAC4EU demonstrator train stopped at a number of locations, including Rankweil and Langen am Arlberg in Vorarlberg, Selzthal, and Niklasdorf in the Steiermark region, and also finally in Vienna. The DAC was closely scrutinised - shunting tests were conducted on the level, coupling and uncoupling tests, measurement runs, repulsion tests and tests in which the behaviour of the DAC was studied under winter conditions. After the stops in Austria, the DAC4EU demonstrator train continued on to Switzerland.
Highlights, photos and videos of the DAC4EU demonstrator train at
blog.railcargo.com
14.03.2022