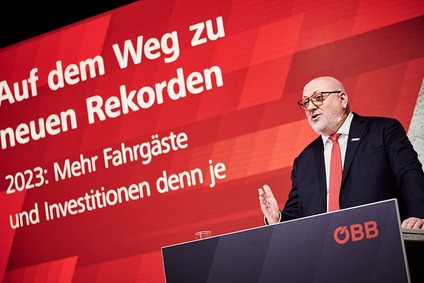 Rail freight transport was confronted with multiple crises in 2022 – from the war in Ukraine, massively rising energy prices, cutbacks in production, material and delivery bottlenecks to high construction site activity throughout Europe with numerous diversions. Logistics flows were also repeatedly interrupted by individual incidents (e.g. the lockdown in Shanghai or the refinery outage in Schwechat) and had to be restored at great expense.
Amid these challenging conditions, RCG, as the leading railway logistics provider in Europe, succeeded in closing the year with EBT of EUR 7.3 million. Even after taking consideration of all extraordinary effects such as government support for the railway sector, there remains a clearly positive operating result before tax. Turnover rose to 1.94 billion euros – around 3% more than in 2021.
Rail transport is critical for both the system and for supply
In 2022, ÖBB RCG brought over 448,000 trains safely to their destinations – almost 1,230 per day. Using efficient logistics solutions, 88.4 million net tonnes were transported last year and over 27 billion net tonne-kilometres were covered with our own locomotives and personnel. Despite numerous crises, the RCG not only repeatedly closed the year 2022 positively, but also once again proved its relevance to supply, the system and the climate – for example by ensuring the supply of fuel after the refinery accident in Schwechat or the transport of around 100 grain trains per month from Ukraine.